Conference Agreement – $390 million for Bus Programs in FY19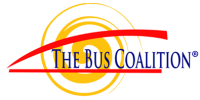 [February 15, 2019] Late Wednesday night, negotiators produced a compromise spending package to avoid another partial government shutdown and resolve, for now, the partisan standoff over President Donald Trump's border wall.
Today, the House and Senate approved the package and the President is expected to sign the bill on Friday. There was a clear desire for both sides to end the fighting after the longest partial shutdown in history that temporarily denied paychecks to about 800,000 federal workers.
The conference report combines seven fiscal 2019 appropriations bills, amounting to about $321 billion in discretionary spending, plus $12 billion in additional disaster aid funds. The compromise gives Trump $1.375 billion for physical barriers along the southern border, a fraction of the $5.7 billion he was seeking this fiscal year. Instead of funding 234 miles of barriers, the measure would fund about 55 miles of "primary pedestrian fencing" and "levee pedestrian fencing" in the Rio Grande Valley of Texas. However, the President has indicated he would make an emergency declaration to increase funding for the wall. Details will be released shortly.
Besides Homeland Security, the package of bills contains FY19 funding for other federal agencies, including the Department of Transportation and FTA.
The final bill provides $390 million for buses above FAST Act authorized levels. Below is the breakdown of bus funding.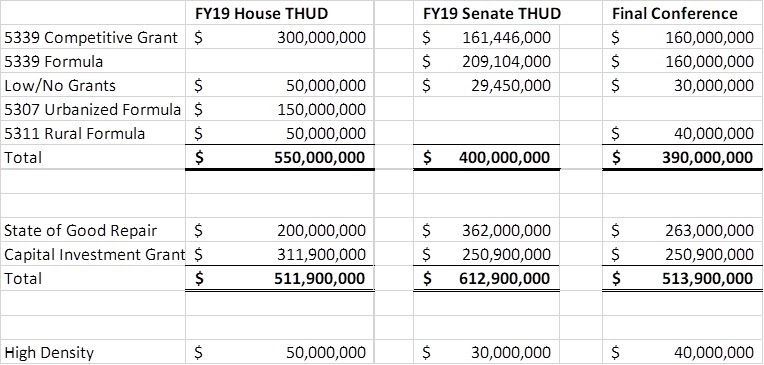 The total is slightly below what we were hoping going into conference. Our reduced number was likely the result of the increases to the Housing portion of the bill in the final conference agreement. Overall, the THUD bill increased funding for Housing programs by 4% over FY18 levels and cut funding for Transportation programs by 3%. In our meeting with Senate Approps Committee staff in late November, they suggested the affordable housing crisis and other housing issues were building pressure on to increase funding for housing programs. 
Overall, a $390 million plus-up is still a big win for The Bus Coalition and allows us to build our baseline for FY20 and beyond.
Early next week, TBC will be releasing its 2019 federal requests for FY20 spending, an infrastructure package and the next reauthorization bill. Your continued engagement is appreciated. Please let Joel or Ed know if you have any questions. Thanks
Additional Legislative Update on the FY 19 Appropriations
[February 18, 2019] We've been getting some good questions about our most recent update regarding FY19 spending. This process is unusual, so the questions are understandable and we are happy to answer them.
Typically, Congress passes a transportation bill which includes funding for highways and transit every six years. Over those six years, Congress typically fully funds the transportation programs at authorized levels and there generally isn't an opportunity to add funds through the appropriations process. This changed in 2018.
Congress increased funding in FY18 and FY19 above the budget cap (called sequestration). As part of that agreement, Congress and the President decided to spend part of the increase, about $20 billion, on infrastructure programs. It's sort of a mini infrastructure bill for two-years. 
The Bus Coalition saw this as an opportunity to advocate for more bus funding above and beyond the FAST Act levels. In FY18, working with CTAA, APTA and our Congressional allies in the House and Senate, we were able to secure an "extra" $400 million for bus programs. In FY19, the deal that just passed, we were able to secure an "extra" $390 million. Throughout FY18 and FY19, all other FAST Act authorized programs were fully funded, ie 5307, 5311.
In total, we were able to get an "extra" $790 million for both competitive bus grants and bus formula funding for your transit systems to access. This is really exciting and we are happy to see Congress recognize the need for additional bus investment. You should expect to see FTA open the next round of the competitive bus and bus facility program and Low/No in early spring. The programs will be funded at $427 million and $85 million, respectively. 
The increases we have been able to secure are separate from the normal annual increases built into the FAST Act for 5307, 5311 and 5339. Below is a chart explaining the FAST Act funds and how the "extra" investments have been allocated in FY 2018 and FY 2019. 
If you have any additional questions, don't hesitate to reach out to joel@buscoalition.com or ed@buscoalition.com. Thanks