The Bus Coalition® Fights to Ensure Competitive Grant Program Follows the FAST Act's Language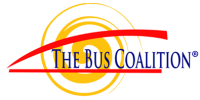 The Problem:
When FTA introduced their FY2016 Notification of Funding Availability (NOFA) for the newly established competitive grant in the Section 5339 Bus & Bus Facilities account, there was an alarming eligibility guideline FTA worked into the NOFA. What FTA is trying to do is align this new program with their "Ladder of Opportunity" initiative. Even though we see FTA's Ladder of Opportunity initiative as laudable and worthy, it undermines the purpose of the FAST Act's competitive bus grant program which is to help America's bus transit systems replace their dilapidating fleet and facilities by focusing on age and mileage of assets.
The Bus Coalition's Actions:
After reviewing FTA's NOFA and gathering input from members of the coalition, a letter voicing our concerns was sent out to the U.S. House of Representatives Committee on Transportation & Infrastructure , U.S. Senate Committee on Banking, Housing and Urban Affairs, and to the Federal Transportation Administration. Click this link for a copy of the letter.
Due to the timing and how quick this program had to be put together, it was too late in the game to get change anything for FY2016 Appropriations. In order to prevent an issue like this from happening in years to come, we authored specific language and requested it be included in 2017 DEPARTMENTS OF TRANSPORTATION, AND HOUSING AND URBAN DEVELOPMENT, AND RELATED AGENCIES APPROPRIATIONS BILL (THUD). Click here to see the 2017 THUD Appropriations Bill.
The language we authored and strongly support is as follows:
"The Committee strongly encourages the Federal Transit Administration to follow the guidance set forth in the FAST Act when developing scoring criteria for the competitive Bus and Bus Facilities Program. Per the legislation, the age and mileage of fleet should be the primary consideration for scoring applications."
We worked closely with two Appropriators, Congresswoman Herrera Beutler (3rd WA) and Congressman David Young (3rd IA), to get the language included. We will be sending the language directly to FTA to ensure they are aware of the clear intent of Congress.